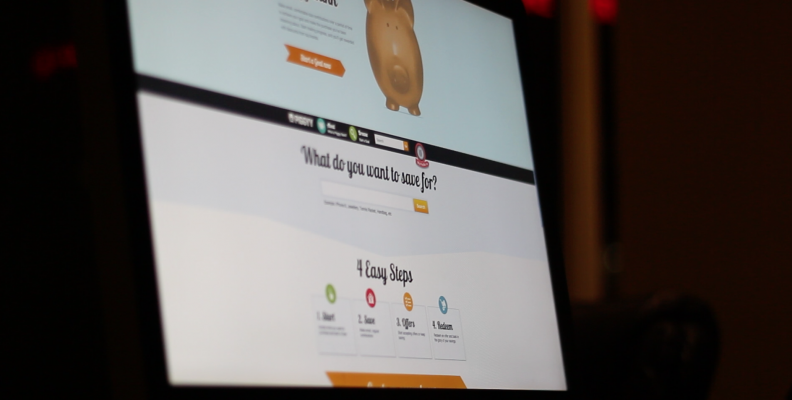 A little change can go a long way…
It was a cool fall day in late October of 2011 and I was renting space downtown in Toronto's King West neighbourhood working on my web development company Original Fly.   Steve Jobs had just passed away.  A lot of his quotes were floating around and the one that stuck out to me was in an interview where he mentioned the greatest hockey player of our time, Wayne Gretzky, who once said
I skate to where the puck is going to be, not where it has been.
With those words, my mind opened up to letting in this idea of Piggy the Bank. I have had a lot of ideas in my life and have even tried a few entrepreneurial endeavours but when Piggy the Bank entered my mind it was different.
Walking to work, I started to think about the much needed vacation with my family over Christmas holidays that would cost too much to pay it all up front. What do you do?  Start saving money.  The problem was, I have a chequing account for daily spending and receiving, and a savings account of money I never want to touch.
I wanted somewhere to put a small amount of money to save for things like a mini savings account.  Isn't this what banks are for? How much time and effort would it take to setup a bank account specifically to save for a vacation?  So now I line up at the bank only to be told to phone an account manager and make an appointment then get the account manager's voicemail, then have to wait a few days for them to call me back.  5 days later bring in 2 pieces of ID,  remember to transfer the money each week, or maybe with today's online banking technology I will setup automatic transfers, but only if I used the same bank as my other accounts of course. There were other things I needed too, like a new TV or a Baby Crib, would I have to go through this process every time?  Too many steps to take, Seacrest out. There had to be an easier way to save for little things.
Lets do the next greatest thing and pay with a credit card y'know, pay it off over time. Making small payments to the credit card will ease the lump payment.  Who's all in for paying interest only for a couple years?  Not me!  Feeling real good about that vacation until next year rolls around and the credit cards is maxed out and btw you used that vacation money to pay for the new iphone 7g.
I had come to realize that by design of society or maybe even on purpose:  There is no system today that lets you pay for things over a period of time without going into debt, paying interest or dealing with the bureaucracies of a bank.  I was stuck.
Back at my office that cool October morning, an economics theory enters my mind: money we earn at our jobs just pay for things – new shoes, jeans, tv, cellphone, winter jacket, snowboard, home furniture, theoretically we should be automatically making small payments to these items directly from the paycheque.  Wouldn't that make our lives a lot less financially stressful?
Debt is always creeping its ugly head and Christmas is always just around the corner. Let us say retailers could see what we're planning to buy that would be some next level substantial benefit.  Ebay is you bid on items.  Piggy the Bank is: Businesses bid on you (BBOY).  A system that connects the buyer and seller in a way that's never been done before. The buyer plans their purchase and starts making small automatic payments towards it, the seller learns of the plan and offers the exact item the buyer wants. Mass amounts of people taking part in Piggy the Bank will create an eruption in retail business . It would be a new type of selling platform for businesses and a new buying platform for the customers.  At critical mass retailers would be able to access mass amounts of data on their potential customers and buying position and preferences, what they liked, and could send private targeted offers from amazing high end brands that you don't see advertised on sale like Macbook pros, and cool Louis Vuitton hand bags.
Would mass amounts of people use something like this?
I broke it down into to these 2 points:
1) Banks are not setup for paying for small things over a period of time, credit cards are but drive you into debt.
2) Private targeted offers will help you get exactly what you want and at whatever price you want it.
The idea was born, Piggy the Bank – the opposite of ebay, paypal's sister meets priceline's cousin, groupon had a baby with amazon and your personal kick starter account is raising her.  This idea would be worked on for many years to come. A virtual piggy bank that provides insights to businesses so you can get exactly what you want by making small payments towards it and to this day I feel like I can't explain it all that well.  But it feels awesome to pay for things at your own agenda and control on your own terms without having to leave your house to setup a savings account.  The way banks charge customers for account fees and transaction fees etc, Piggy the Bank would not be interested in charging it's customers or making it difficult to refund payments inside the piggy bank accounts. All the customer is giving up are some preferences about what is in their Piggy Bank.  Everybody wins like all the other platforms.  It just seemed so different to anything that is out there yet so fascinating to me because if your paycheque is just going to these items anyway, you may as well bank your money with a golden opportunity to pay for things responsibility, get great deals and rewards and have a debt free life and earn more rewards on your money then a bank would pay in interest.  I was sold, are you?
Maybe it's not for everyone this Piggy the Bank but it became clear to me that building websites my whole life is what I do and I would have to build this.
Piggy the Bank was not something to be slapped together, this was a massive project, nothing like this existed, there was no e-commerce platform that could handle this idea.  We would have to create a buying and selling process from the ground up that is designed to give the consumer complete freedom and flexibility with how they choose to buy a product.  Everything should be on your own terms, Total Amount, Duration, Weekly payment amount, preferences of what you want to buy, certain brands you like, something specific like an iPhone 6s, or something vague like new skis.
I started talking to "people", friends, family, business colleagues. Most loved the idea, some even wanted to get involved, but couldn't commit to the time it would take. It was so huge that it was almost impossible to do, and after lots of excuses, run around, talking to potential investors, I realized no one believed in the idea or me enough to help.  Was it impossible? Am I wrong? I just deeply believed it would help people, it would be great for business and potentially to the economy, so I was still committed to doing the project.
I'll do it myself  I said to my brain, I can handle the development part.  I tried to slap some initial prototype together and it was really bad. Months went by without further progress.   I desperately needed someone with design experience.  I was almost ready to give up.
And then… one magical day, this guy who worked at a company where my company rented space from asked if I wanted to grab lunch. He was a young UX Designer named Andy. We had worked together on a few projects and he was super nice, but also sharp and amazing at his craft. I told him about this idea and, as they say, the rest is history. He believed in the idea and he more importantly believed in me. Over the course of the next few years, and with the help of our friend Scott and a few others, we made it our mission to build Piggy the Bank.
From the beginning of the process we always had one thing in mind, the end user and the"piggy bank" – the magical idea back in the day when you were a child and you would stuff coins into it and finally break it open to get the item you wanted so badly (for me it was a skateboard). It was meant to teach us a great life lesson and has become our mantra:
A little change can go a long way.
Our aim with Piggy the Bank is to provide you with a product that delivers this achievement.  We are committed to motivate and reward you with each visit and also get you great products.  The truth is, the debt levels have never been higher, and there is still hope that the younger generations will be moving away from the immediate gratification culture that comes from spending and buying with credit. Piggy the Bank hopes to be another option now.
Do you love it or hate it?  I explain the idea of Piggy the Bank to some people who look at me like "why on earth would anyone do that?".  Usually followed by, "so why don't they take out a loan to get the item right away?". Debt is not the point.
It's not what you buy it's 'how you buy'. Comprehend that for a second. We are all accustom to retail shopping online and in-store too.  You spend the money all at once.  Piggy the Bank you are just automatically building up your buying arsenal making payments each week, chipping away at those items, it's not suppose to be instantaneous, or serve some immediate gratification.  The buying process is tuned to a personal journey of freedom, flexibility and fun.
Piggy the Bank is a lifestyle.  Whether you're getting married, having a baby, planning a vacation or renovating your home, this concept of save today own tomorrow can be a way of life.   Andy and I really aligned well with this idea and we are at different stages of our lives.   Do others feel this way to? That answer is coming soon after 4 years of a really long journey, we are finally ready to test this experiment.
So sign up at Piggy the Bank – > Start a goal. Plan it out with ease. Get what you want. Repeat and we hope you love it.
I welcome your feedback so we can make this product great for everyone, so please do not hesitate to get in touch with me.